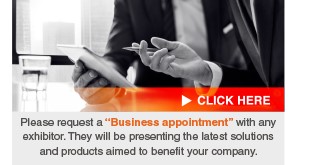 Once in your personal access, click on CONFIGURATIONS and select the options of your preference regarding the language, dates and times in which you will have availability to arrange Business Appointments, as well as the frequency to receive notifications.
To request Business Appointments, click on REQUEST NEW APPOINTMENT, in this section the exhibitors will be presented in order of compatibility level according to their interests.
Click See more information? To learn more about the Exhibit Company of your interest.
To request a Business Appointment click on With schedule (proposing a date and time for the appointment) or Without schedule (to leave the date and time open and agree later between both parties).
To search for a particular product or service, you can use the Filter located in the upper right.
Business Appointments will be held during Mexico WindPower 2020,on March 4 and 5, 2020, during the exhibition hours from 10 a.m. to 7 p.m.
The duration of the Business Appointments will be 20 minutes each one.
Frequently visit the "Request a Business Appointment" option to go to your Administrator and review the updated information of your appointments and request new appointments with new exhibitors.
We appreciate your participation, wishing it is as profitable as possible for your business.